Information Box Group
Air India first received communication of the incident and reached out to Director of Air Safety, Mr. H.S. Khosla, who was appointed Inspector of Accidents to carry out investigations into the air crash.
While search and rescue operations were under way at Cork, a team of officials rushed from India to Cork and was joined by Mr. Kiran Doshi, the Indian ambassador to Ireland, officers of the Indian Navy who were attached to the Indian High Commission at London and two medical experts.
Information Box Group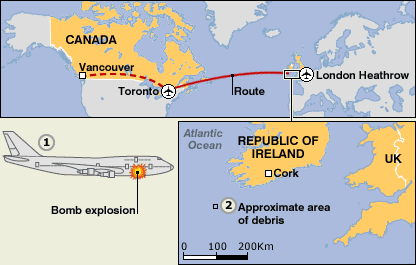 The Government of India launched a formal investigation of the accident on 13 July 1985 and Mr. Justice B.N. Kripal, Judge of the Delhi High Court, was appointed. The court was to investigate the causes and circumstances of the incident and make recommendations.
The final report offered several recommendations to improve aviation and airport security across the world.
Download the complete report
PHOTO FROM BBC-WIKI
Information Box Group
Following the acquittal of the accused in the Air India/Kanishka bombing case, the Indian government expressed its shared outrage with the families and friends of those killed in the bombing.